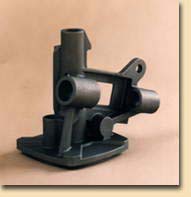 Investment casting is Metrocast Italiana core business since 1967. After this great experience, our company is now one of the leading investment casting foundries in south Europe.
This technology is an advanced metalforming process used to produce metal parts of the highest functionality, quality and cost-effectiveness. The process is well-suited for steel and special alloys parts with a weight from 1 gram up to 5 Kgs.
Like for any other technology, there are some limits and tolerances that should be respected since the designing step at the beginning of the developing of the casting.
These matters and others informations are described on the following pages, reachable through the links here below.


Metrocast Italiana SpA - Via Valtrompia, 121 - 25063 GARDONE V.T. (Brescia) Italy - Tel. +39.030.831437 - Fax +39.030.8911166
E-mail: info@metrocast.it - P.IVA 00552020984 - C.F. 00297700171 - Capitale sociale i.v. euro 600.000 - REA: 159722