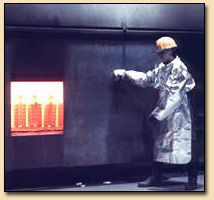 Metrocast Italiana was established in 1967, when the industrial application of the investment casting technology in Italy was at its very beginning.
Because of its strategic location, Metrocast Italiana became in a few years the leading producer of investment castings for the shotguns market.
During the next years Metrocast Italiana goes into new businesses: automotive, stainless steel valves, motorcycles, pumps, food processing machinery, packing machinery, textile machinery and so on. Today Metrocast castings are used in a so large range of sectors that covers almost all the engineering industry.
In the Gardone V.T. facility (6000 sq. mt. under roof) work 60 people: a solid but flexible organization, which is able to supply the customers with the best solutions on the market. The systematic processes control, the use of certified raw material, the innovative equipments, allow Metrocast to produce castings with high quality standards and meet customers' most special requirements.
The experience gained in more than thirty years, workers' high specialization, the advanced technology used and the modern control and measurement equipments, make of Metrocast Italiana one of the leading italian investment casting foundries.